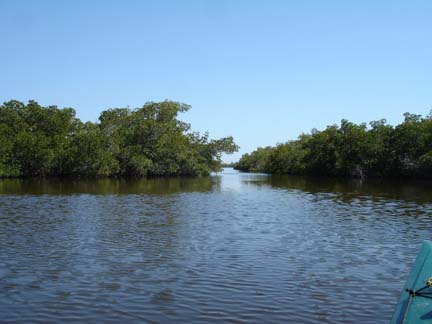 Kayak paddling or Kayak fishing is beautiful in this area with very protected waters and open bay paddles over miles of grass flats.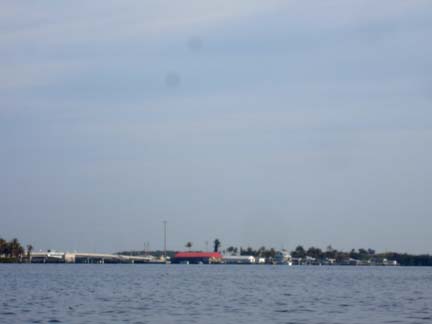 There is a pretty deep cut that splits Matlacha Island on both sides. People call this the fishingest bridge in the world as everything in the ocean swims up this cut from Estero up to Charlotte Harbor.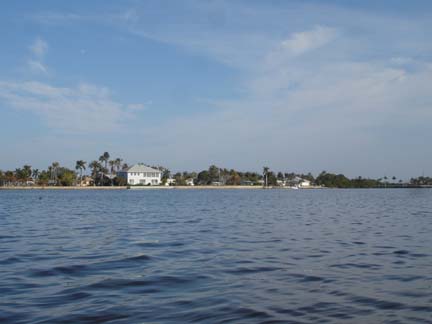 Some views from the kayak back towards Matlacha. There are two Pine Island's in Florida and this one is sandwiched between Cape Coral and Sanibel in Lee County.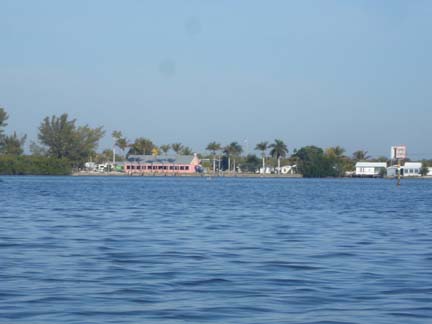 A view towards Sandy Hook Fish House.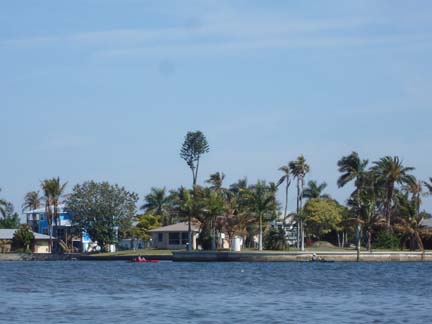 Matlacha is punctuated by sixties and seventies style houses but has the feel of Old Florida.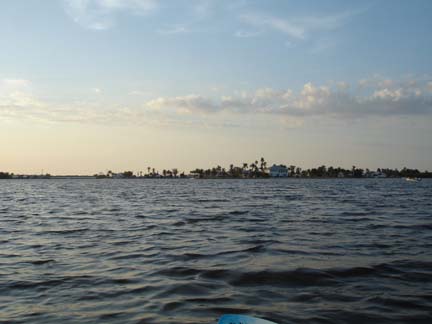 Late afternoon as the Sun Sets on our way back to the dock.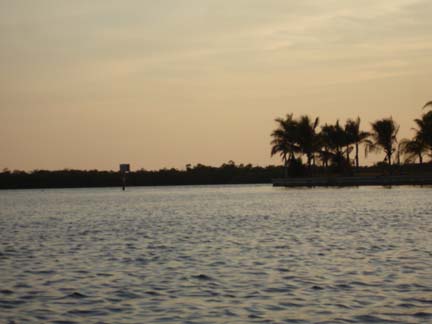 We have found that trolling at kayak speed is perfect to finding schools of trout. Here we stop around sunset as we hit some very hot trout action.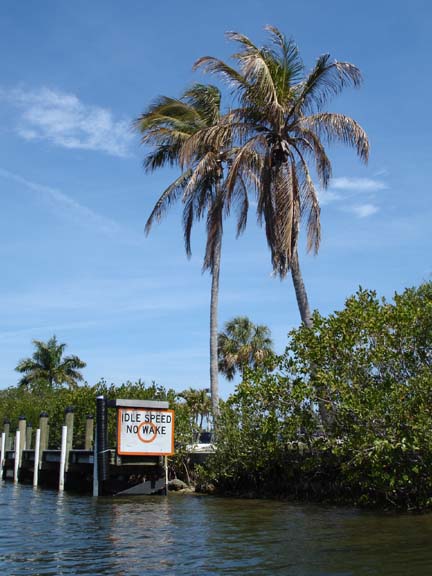 In Florida, you have to watch the motorboats when you kayak. The cannot go up into many areas of the Blueway because of the motor exclusion zones and we are pretty careful about idle speed no wake areas which protect not only kayakers but also Florida manatees that are all over the place in brackish bay waters.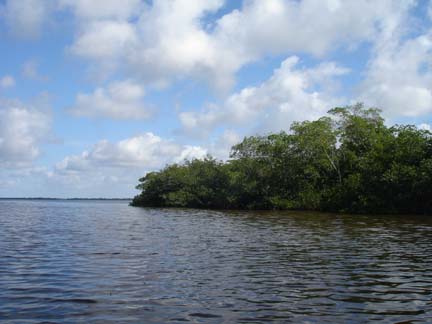 This series of pictures was taken when we paddled north to the mouth of Pine Island Creek in search of redfish. Water was very clear on a November morning before thanksgiving.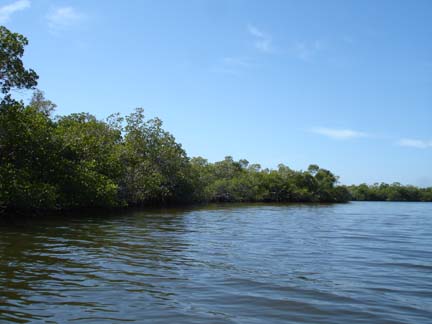 We explored many of the mangrove edges at high tide looking for tailing reds. That day, we got some catch and release snook plus a couple of trout.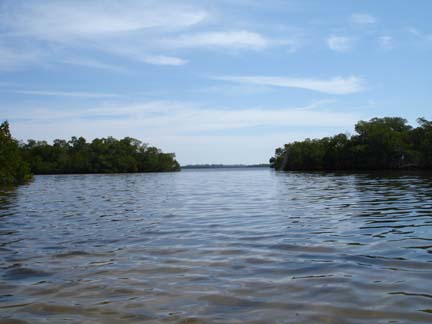 The mouth of the Pine Island Creek was where we got all the trout on the outgoing tide.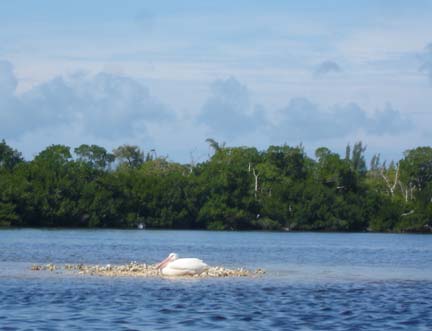 In the winter, you see a lot of white pelicans in southwest Florida. Not sure where they all go in the summertime.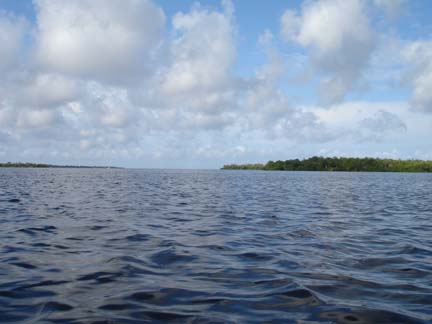 A view of North Matlacha Pass towards Charlotte Harbor. This view is looking up towards Boca Grand.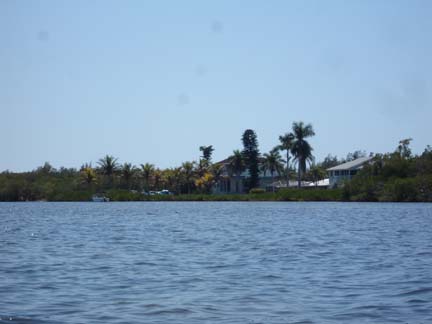 The nice thing about kayak paddling Matlacha is there are drops for every wind. One Easter trip, we were void of redfish for two days and went South based on the advice of a guide stopped at a bait store. It was a stronger Northwest wind than we expected so we fought out way a mile or two into Rock Creek for some wind protection. Later in the day, this was our view on the way home as we rode the wind back to the drop effortlessly.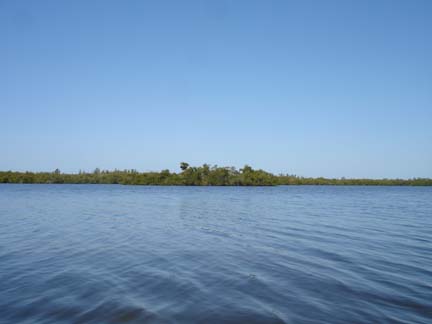 Here in the flat wind protected waters of Rock Creek, we got into a huge school of redfish with catches of "top of the slot" 27 inch fish. You cannot imagine the excitement of hooking up a huge fighting gamefish like that from the platform of a kayak using light tackle. Right after my 27 inch fish, Gina hooked an even bigger one and announced "I am going to be a while" when I took the net down. This one must have been 32 or 36 inches long but we'll never know since it broke off 20 pound braided line before we got him to the boat.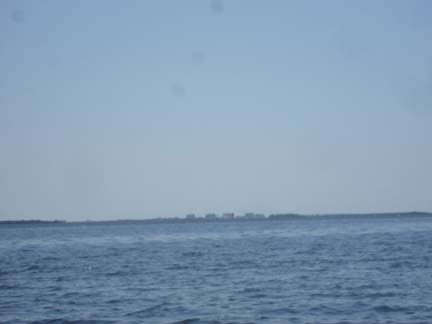 Matlacha Pass is very large at the bottom end where the Estero River comes into the pass. This is the view looking towards Sanibel Harbor across the bay.