Kayaking Fort Desoto - St. Petersburg, Florida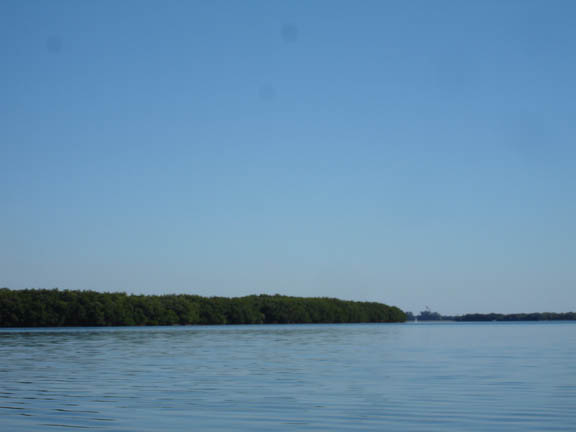 Fort Desoto is a county beach park that has been on Dr. Beach's list a time or two. Looks like Wilderness, but located at the southern tip of one of the most densly populated counties in Florida. A very special place to kayak near the mouth of Tampa Bay.

Notice the big pink Don Cesar Hotel on St. Petersburg Beach in the background.
The beach and the best grouper sandwich in Florida are both about 15 minutes away.

Acres of grass flats are just about one foot deep for the perfect spot to drop a kayak.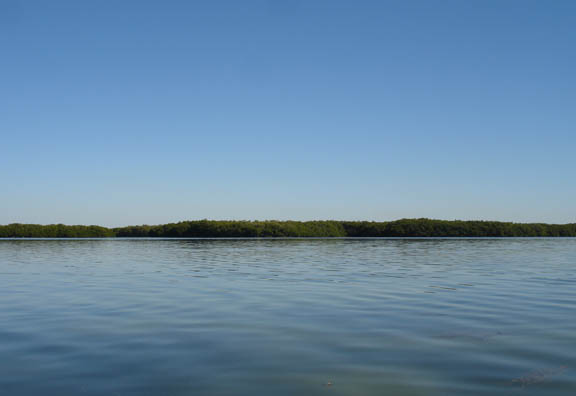 You can paddle this area but you will need a high tide unless you stay in the channels. Anywhere from a medium to high tide will give you at least a foot of water in the flats. The shallow area plus the motor exclusion zones give a kayak the edge in this beautiful urban area.

Shell Island at a distance. Half the island is a wading bird preserve but the other half is a beautiful public beach
that is reachable by kayak or other types of boats. Weekend boat traffic makes this a midweek drop if you can as across the channel is the largest boat ramp in all of Pinellas County. I love to stop here on the back end of Shell Island and walk across to the beach for a mid afternoon swim before kayaking back to the causway.

The large Winter colony of white Pelicans sit on a sandbar behind Shell Island. Kayak is the best way to see the Florida bird populations like these white pelicans.