Florida kayak trips are featured in this site; including pictures, paddling routes, kayak launch points and kayak fishing information. Kayak Beach is a website for people interested in travel to Florida for the purpose of vacation including some recreational kayaking or kayak game fishing. We know Florida kayaking and we can book hotels on beautiful beaches that are near some of the best kayak drops in the State of Florida My name is John Rice and I run a travel agency in Tampa, FL. My yak is a 16 foot tandem Old Town that my wife and I have dragged all over Florida in the last eleven years. Although I have traveled the World I am lucky enough to come home to one of the most beautiful parts of America from a kayaking perspective. When I come home from a foreign vacation and the plane banks over my home waters of Tampa Bay near the Skyway, I always look forward to paddling the waters of Tampa Bay as soon as I can.

As a travel agent that kayaks and kayak fishes, I have a unique perspective on Florida kayaking. We can develop custom kayak itineraries with beautiful scenery that are located in or near resort destinations. That way you can see the beauty of our waters in a half a day of paddling and spend the afternoons on the beautiful Florida beaches.We provide information for FREE including drop points, kayak outfitters, kayak guides and suggested kayak routes as long as you let us book your hotels and resorts, rental cars and other vacation services before you arrive in Florida. As we became more experienced kayakers and logged over ten years of kayaking at over 35 drop points across Florida we became convinced the nobody was providing this type of service for the average recreational kayaker. If you Google kayaking Florida, you will find clubs and individual outfitters plus advanced trips like the mosquito infested 12 day crossing of the Everglades, but you will not find anyone that can help you find the drops and the classy or value oriented beach hotels nearby plus attraction planning, rental cars and local advice for a total vacation package.

Whether you are from out of town or just a local kayaker looking for a new drop or route map, thanks for checking our site. If you are a tourist coming into our state for a stay, call us to plan the whole vacation. We have some of the best kayaking and kayak fishing in the United States right here in West Florida.

If you are driving in with the yaks in the racks, tell us how many days you want to be in Florida and how many days you want to kayak and we'll suggest an adventure. If you are flying in, we can plan an adventure with different outfitters and hotels in various cities so you can drive the state and see the best tourist destinations and best kayaking that our area has to offer. Many of the drops and the Florida wilderness are less than a half an hour from the beaches. Lower Tampa Bay, Weedon Island Preserve, Fort Desoto or Caladesi in Pinellas County, Terra Ceia, Ozello, Placida, Port Charlotte, Sanibel, Marco Island (Goodland & Rookery Bay), Fort Myers Calusa Blueway, Cedar Key, St. Georges Island, St. Vincent's National Seashore, and Merritt Island National Seashore are just a few of the places we have paddled over the last ten years not to mention the fantastic river runs in Florida like our upper Hillsborough River where you can launch with our friends at Canoe Escape just a couple of miles from my office. Remember, make your kayak trip travel plans with the kayak paddling travel agent and the advice is FREE! Our suppliers are competitive with the online sites but the local knowledge you get is invaluable.

Recently, I took my friend paddling at Cockroach Bay near Ruskin, Florida. We both had been working too much and our wive's blessed a rare midweek day off as an escape. Even in June, it was mid seventies when we hit the glassy flat water at 6:30AM. To me this area demonstrates the care we have taken to restore the natural estuaries right near metropolitan areas in Florida. Hillsborough County has an ELAPP tax of 1/4% to buy environmental lands. Most of Southern Tampa Bay has now been purchased, including upland buffer preserves. Eric remarked to me that he could not believe the water quality, amount of seagrass and beauty that was just 15 minutes from his home in suburban Brandon, Florida. As we rode the tide up into Cockroach Bay (named after the horseshoe crabs that were plentiful in the 1800s, not the "official" Florida insect) the mangroves, bird populations, schools of mullet jumping remind you of wilderness. The day was finalized with a friendly Manatee that kept putting his scruffy face up by the boat, but knew how to stay just out of arms length. He seemed facinated by the yellow bait bucket we had tied on to the yak even though they don't eat shrimp. Probably looked like a beachball with his playful attitude. Remember, Florida wildlife rules do not allow touching any marine mammal, even friendly manatees and you need a saltwater or freshwater fishing license which you can get online if you are coming down for kayak fishing. The manatees and dolphins in Florida seem to identify with paddlers and we are in close proximity to them during both summer and winter months about once a month.
Who can book cars, hotels
and attraction tickets
plus give advice about outfitters,
winds, weather and tides?
John Rice, your kayak paddling
travel agent in Florida

Big Reds, Snook and Trout
are available statewide
if you are lucky, we might even
show you the redfish holes!
West Florida kayak fishing report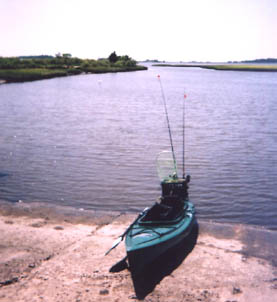 Some of our Trip Pictures of
Kayaking in Florida
Brasher Park, New Port Richey, Florida
Bishop's Harbor, Tampa Bay, Florida
Cross Florida Barge Canal, Yankeetown, Florida
Fort Desoto, St. Petersburg Beach, Florida
Green Key New Port Richey, Florida
Long Point County Park, Sebastian Florida
Matlacha near Cape Coral/Pine Island, Florida
Merrit Island NWR, Cape Canaveral
Ozello Keys near Crystal River/Homosassa
on the Nature Coast of Florida
Rookery Bay National Estuarine Reserve
near Naples/Marco Island, Florida
Shell Mound, Suwanee River NWR
near Cedar Key, Florida
Sunrise Park, Port Charlotte, Florida
Terra Ceia Bay, Palmetto, Florida
The water in most of the areas that we paddle is never more than ten feet deep unless you are crossing a boat channel. Most times, we are kayak paddling in four feet or less of water and some of the prettiest areas are seen in skinny water that may only be six or eight inches deep. Florida bird watching from the kayak in both winter and summer include Herons, Pelicans, Cormorants, Various types of Egrets and Ibis, Terns, Ospreys plus occasional Roseate Spoonbill. Kayakers come in contact with marine animals including manatees and dolphins as the teenagers that operate in packs of two or three plus the family pods with Mommas and baby's love to ride the tide up the creeks to eat fish in our Florida waters. If you are lucky, you could even see some of the interesting group hunting techniques used by the dolphins to feed the young and themselves. We have seen three or four adults herding mullet or pinfish or baitfish up on a mud beach to scoop up. In the North Florida tall grass, they make a lot of noise with their tails to confuse the fish before hunting. In addition, we see the occasional shark, skates and rays at certain times of year. Large sea turtles also feed in theback-country of North Florida's clear spring fed estuaries. We refer to our Old Town kayak as "The Barge" as it has a good carrying capacity whether we are loading our custom fishing gear setup (pre-kayak fishing rigged boats with a milk-crate that carries pole holders, soft cooler, bubble box and a net) or a beach umbrella and lunch for the easy trip across to Caladesi. At sixteen feet, she handles the waves when the whitewater kicks up and we have to paddle across a bay to get home.

Just because we don't paddle one of those sleek touring boats, don't think that you can't bring yours down to our Florida waters if speed and distance are your thing. Florida has good outfitters and if you drive into the State with your personal boat/boats you will find great trails where you can make a ten mile run and really test your skills and kayak. There is a great choice of saltwater ocean kayaking in the back-country, barrier island, offshore and even great river paddling in the State of Florida. We also have some of the best easy family kayak trails with sit atop and cheaper plastic rental boats available for inexpensive prices if you just want to get the family out to kayak and see the REAL Florida for a couple of hours on your vacation. If you are coming to Florida to paddle, call us first and let us get your hotel, condo or other accommodations together before you head south. We can do a custom itinerary where you stop to paddle in North Florida, the Nature Coast, Central Florida and Southwest Florida in one trip if you want to see the whole state from a yak. We have great choices of hotels near each city and kayak drop, so you can end the day on a great beach with restaurants and attractions nearby. Check the links and give us a call if you need some help planning a kayak or kayak fishing adventure in Florida.