Kayaking Terra Ceia Bay
Near Bradenton, Florida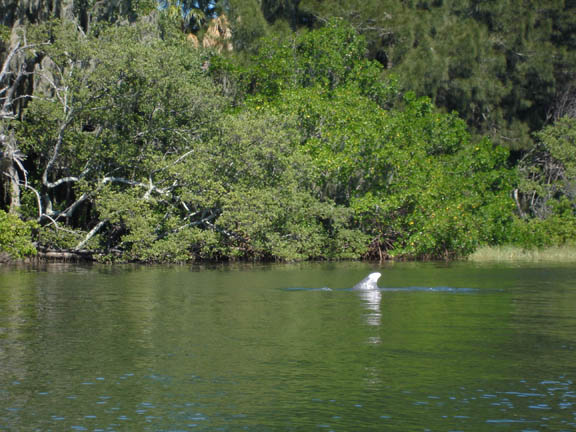 This day as with some days, we kayak with the dolphins all day. They hunt in the shallow water where we paddle the kayaks.
This is actually a pretty large bull (male) dolphin and they travel alone in many instances.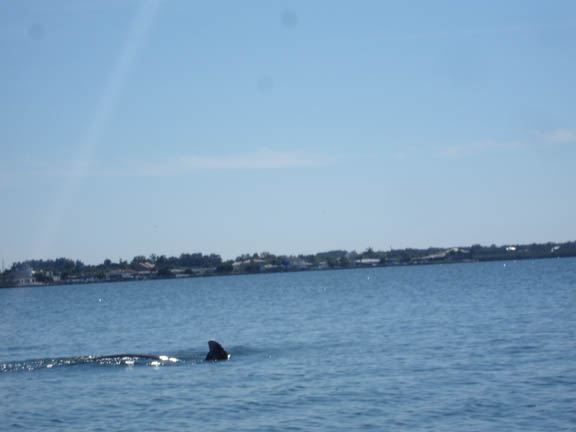 The same dolphin a little later. You can see him actually pushing a wake as he is chasing mullet or trout in the
shallow grass flats. Paddling a kayak right next to these huge marine animals is sometimes scary, but
they have always been gentle when the kayak was around from our experience.

If you look carefully, you will see the gold spires of the Sunshine Skyway Bridge in the distance. We are
only about 2-3 miles south of the span where major freighter traffic comes up the Tampa Bay. This kayak drop is south of Cockroach Bay and Fort Desoto in kind of a triangle surrounding the Sunshine Skyway Bridge. Here we are looking north from the kayak in Miguel Bay.

Miguel Bay is really beautiful and full of all kinds of fish since it is so close to the channel into the Gulf of Mexico.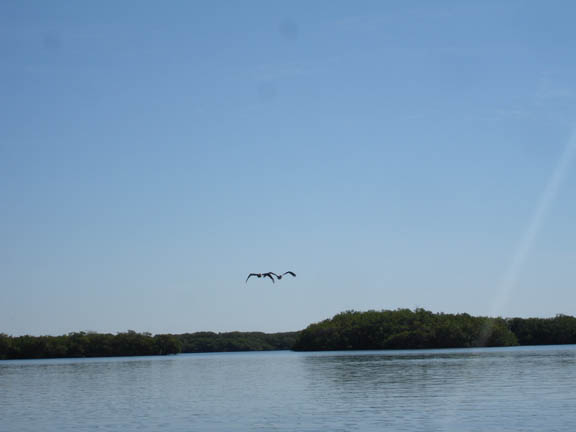 Pelicans hunting over the bay searching for an afternoon meal.

This sign is telling the boats to resume nomal safe operation. That translates into kayak speak
"look out for the idiots as they open up the throttle right next to you". They can throw quite a wake
getting up to a plane so you need to point the nose towards them as they speed by.

The same bull dolphin we have been with all day. Prior to this picture he did a full pirouette out of the water
just like Seaworld. It surprised us and we did not get the picture but we all let out an oooh and an aaah for that one.
At this point, he has most of the body out of the water and you can see he is a big boy.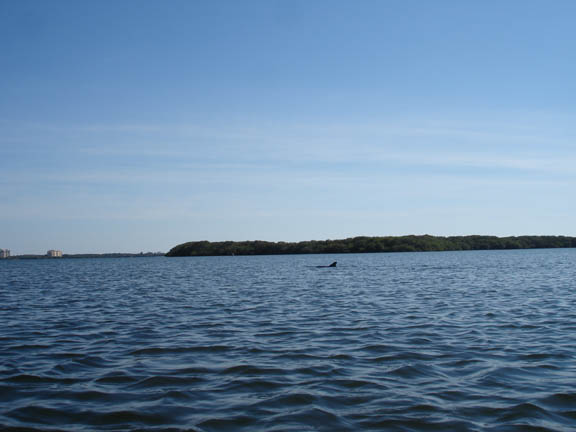 Same bull dolphin off in the distance with the condos of Bradenton way off int he distance. Like I said earlier
I am lucky to live in such great kayaking waters so nearby to my home. The beaches of Anna Maria Island
are a little over 20 minutes from this kayak drop.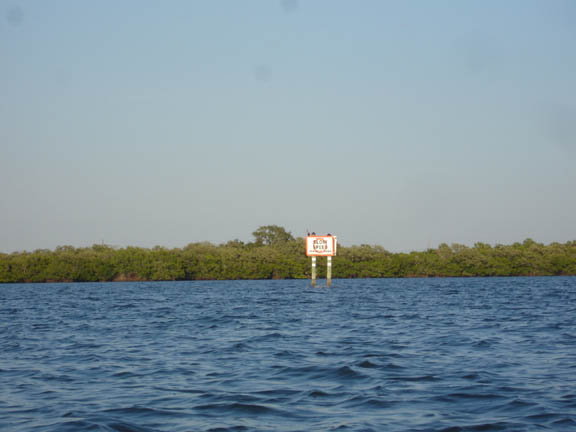 Slow speed zones mean that power boats must slow down to a no wake speed through the shallow areas of the Bay.
Other areas are actually motor exclusion zones where we all have to paddle or pole even in a bigger boat.
This has helped the grass flats re-grow in the bay as they are the nursery for all the juvenile fish and crabs.

In this part of the World, you can go out glassy and work your way home in a big chop even on a clear day.
We get a sea breeze many afternoons that can run up to 10 to 15 knots so you have to watch your wait and balance if you are
crossing a large bay like Terra Ceia that has an open end towards the Gulf of Mexico.